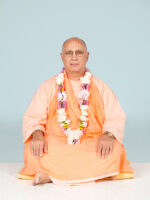 On Wednesday, January 29th please come out to celebrate our dear spiritual guide Srila Bhakti Pavan Janardan Maharaj, acharya of this Ashram and long time leader and inspiration to so many practitioners of bhakti yoga in the mission of Sri Chaitanya Saraswat Math.
This event is a joyful
opportunity to give due honor to Srila Janardan Maharaj and cherish our
good fortune to have his spiritual guidance and leadership in our
lives. There will of course, be a delicious feast afterwards.