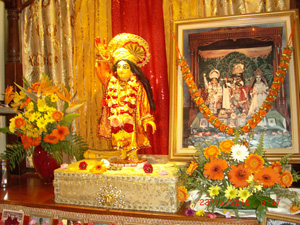 All glories to Sri Sri Guru Gaurangasundar Mahaprabhu!
Join us Saturdays 6-8:30 pm
Bring your family and friends. We love to meet new people.
Downtown San Jose
50 minutes from Oakland and San Francisco
If you would like to bring an offering for the deity, we recommend flowers and fruits. If you are interested in being engaged in seva, just call ahead or email us. The first step is to come here and get to know our community. Service donations are always appreciated.
Call us: (650) 550-8573
Email us: Info@SevaAshram.org
Write to us: Kumkum Devi 269 E. Saint James St. San Jose, CA 95112