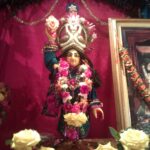 Sri Gauranga Sundarjiu
worshipped at the San Jose Seva Ashram
Sri Gaura Purnima
Divine Appearance of Sri Gauranga Mahaprabhu
Monday, March 9th
6 pm in Santa Cruz and San Jose
Anandotsav Feast of
Sri Jagannath Mishra
Tuesday 12:30-1:30 pm in Santa Cruz

Virtual parikramas hosted by
Srila Janardan Maharaj
from the Santa Cruz Seva Ashram
(watch online!)
Thursday-Saturday 7-8:30 pm
Sunday 10:30 am-1 pm
Dear Friend of the Ashram,
Please join us for Sri Gaura Purnima. Bring your friends and family for the most auspicious celebration of the divine advent of the Golden Avatar Sri Gauranga Mahaprabhu, who appeared in this age of quarrel to distribute Divine Love to all the fallen souls and initiate the chanting of the Hare Krishna Mahamantra as the yuga-dharma.
There will be virtual parikramas of Sri Nabadwip Dham led by Srila Janardan Maharaj at the Soquel Seva Ashram every evening Thursday-Saturday from 7-8:30 pm and Sunday 10:30 am -1 pm.
You can watch all the virtual parikramas and Monday's festival on our Facebook page.
On Tuesday there will be a feast after the 12:30 pm arotik for Anandotsav of Sri Jagannath Mishra.
Yours in the Lord's service,
Sushila Devi Dasi