Current Schedule of Classes in Santa Cruz
Mornings at approximately 8 am:

Srila Janardan Maharaj reads through Sri Chaitanya Charitamrita from cover to cover, which takes about three months. He is particularly interested in making sure that listeners catch the sequence of the story and lila. He has been reading Sri Chaitanya Charitamrita for decades and clearly has very great appreciation for the scripture. If you cannot attend, consider listening to the recordings in the car or while you cook, etc.. Download them here.
Evenings: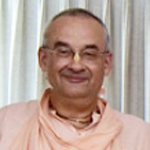 Monday, Wednesday, Friday, Saturday, and Sunday at 8 pm:
Sripad B.C. Parvat Maharaj reads a chapter of Srimad Bhagavad-gita: the Hidden Treasure of the Sweet Absolute. Bhagavad-gita is an essential scripture and it is very wonderful and nourishing to hear a chapter every day. When Sripad Parvat Maharaj travels Jatindra Mohan Prabhu gives the class.
Tuesday and Thursday at 7:30 pm:
Sarvabhavana Prabhu reads books by Srila Govinda Maharaj and Srila Sridhar Maharaj such as Revealed Truth, Affectionate Guidance, Sermons of the Guardian of Devotion, etc..
If you have questions about the schedule, please call (831) 462-4712.