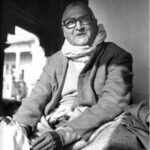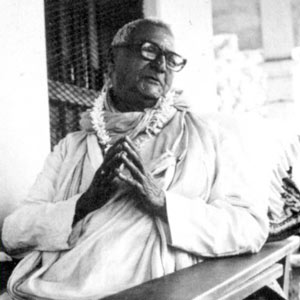 Join us at the Seva Ashram at 10:30 am on Sunday, August 8th to honor His Divine Grace Srila Bhakti Rakshak Sridhar Dev-Goswami Maharaj. The program will be broadcast on Facebook as well.
Read the biography of Srila Sridhar Maharaj Click here…
For a library of Srila Guru Maharaj's downloadable books Click here…
devam divya-tanum suchanda-vadanam balarka-chelanchitam
sandrananda-puram sad-eka-varanam vairagya-vidyambudhim
sri-siddhanta-nidhim subhakti-lasitam sarasvatanam varam
vande tam subhadam mad-eka-saranam nyasisvaram sridharam
I offer my obeisance unto my lord, Srila Bhakti Raksak Sridhar Dev-Goswami Maharaj, whose speech is most pleasing; whose divine form is adorned with garments the colour of the newly-risen sun; who is an abode of intense, ecstatic devotion; who is the sadhus' sole choice; who is an ocean of renunciation and knowledge; who is a treasure-house of perfect conclusions; who is resplendent with pure devotion; who is the best of Srila Saraswati Thakur's followers; who is the giver of all good; who is the leading general of the tridandi-sannyasis; and who is my sole shelter.
kanaka-suruchirangam sundram saumya-murtih
vibudhakula-varenyam sri-gurum siddhipurtim
taruna-tapanabasam bhaktidan-chid-vilasam
bhaja bhaja tu manore! sridharam samvidhanam
I am always worshipping with great joy within my heart Srila Bhakti Raksak Sridhar Dev-Goswami Maharaj, whose limbs are of the radiant golden colour and form is beautiful and moon-like gentle; Sri Guru who excels among the most learned and who is filled with all perfections; who is adorned by the garments the colour of the rising sun and who is engaged in the joyful Pastimes of bestowing bhakti, devotion.