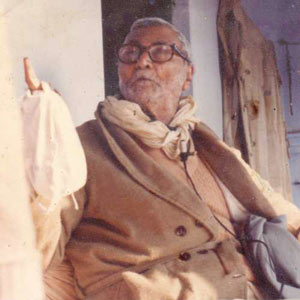 Disappearance of Om Vishnupad Paramahamsa Parivrajakacharyya-varyya Astottara-sata
Sri Srila Bhakti Raksak Sridhar Dev-Goswami Maharaj
Monday, July 20th
Virtual festival at 11 am
Dear friend of the Ashram,
Please tune in to join Srila Bhakti Pavan Janardan Maharaj at the Sri Chaitanya Saraswat Seva Ashram this Monday at 11 am to honor the Divine Disappearance festival of our most worshippable Param Guru Maharaj, Srila Bhakti Rakshak Sridhar Dev-Goswami Maharaj.

The program will be broadcast on our Facebook page (no login required).
Many beautiful resources are linked on SCSMath.com for today.
"The destination has been settled, but how shall I reach it? When shall I reach it? Those who come to my aid to take me there–they are my masters, my Gurus: Siksa-gurus and Diksa-guru. Whoever helps me to go there is my Guru. He is my guide who will help me to reach my located destination, the station of my innermost hankering….
He has helped me to locate my destination; he has educated me how and what to aspire after, and how to reach that highest aspired shelter. I have attained all these things through him. He is my all-in-all in life, the master of my life. There is a boat, and he is the helmsman (guru-karna-dharam). I have surrendered unto him, I have accepted him. I have boarded his boat and he is taking me towards the goal of my life."