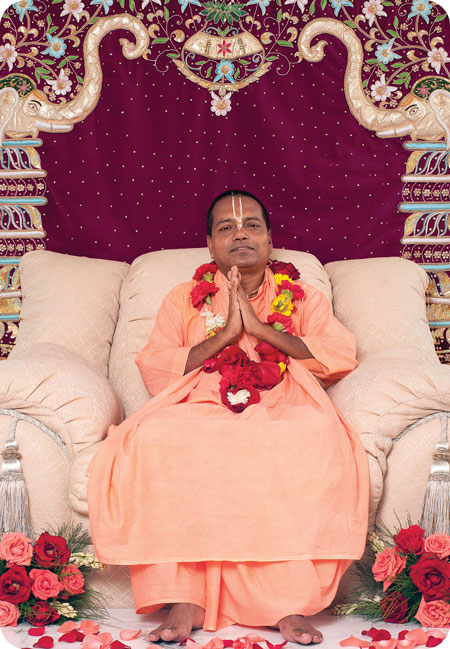 pujya-sri-guru-varga-vandita-
mahabhavanvitayah sada
paurvaparya-parampara-prachalita-
prajya-pramurtakrteh
bhakter nirmala-nirjharasya
nibhrtam samraksakam sadaram
vande sri-gurudevam anata-sira
acharya-varyam nijam
I bow my head in eternal obeisance to my Gurudev, the best of acharyas, Srila Bhakti Nirmal Acharya Maharaj. He is the ever vigilant, stalwart guardian of the current of pure devotion whose highest form flows from our most worshippable Sri Rupanuga Guru-varga in their exclusive dedication to Mahabhav, Srimati Radharani.
prerakam prachya-paschatya-
sisyanam bhakti-vartmani
bhakti-nirmalam-acharya-svaminam
pranamamy aham
I offer my respectful obeisances to Swami Bhakti Nirmal Acharya, who is energetically inspiring all of Eastern and Western disciples on the path of pure devotion.
---
---
Dear devotees and friends,
This Saturday, October 17th, we are celebrating Srila Bhakti Nirmal Acharya Maharaj's divine appearance day! This is a very auspicious and sweet day and even through by the Lord's divine arrangement we cannot all be together now we want to distribute prasadam on this beautiful day!
Please email vrindaji@yahoo.com if you wish to pick up a plate or four, and drive by our Ashram from 12:30-2 pm for a little piece of a feast in honor of our affectionate Acharya and Guardian. Please forgive any offenses I make in this attempt to serve Srila Acharyadev and all the devotees.
In service,
Vrinda Devi Dasi
Srila Acharya Maharaj's Website: