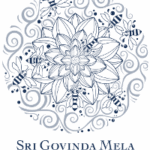 Dear devotees and friends,
Please accept my humble obeisances and kind regards in remembrance of our beloved Srila Gurudev.
I believe I speak for all in attendance at this year's Sri Govinda Mela in saying that I am overjoyed by the heart-touching experience we all had together. The warm atmosphere reminiscent of Srila Gurudev's world tours, the fulfillment of Srila Gurudev's desire through the building the Sri Giriraja Raja Mandira, the excellent delivery of Hari-katha by our distinguished speakers, and the abundance of service energy offered by so many participants in preparation for and throughout the Mela, amongst many other qualities of the gathering, have greatly delighted us all. I pray all the momentum created by this year's Mela will inspire the community to make a concerted effort to continue the event annually for years to come.
I'd like to invite anyone who would like to offer suggestions as to how the Mela could be improved next year to kindly fill out the form linked here: Sri Govinda Mela 2019 Review
You can still watch videos of most of the talks and programs held during the festival on the Seva Ashram's Facebook page.
Lastly, I would also like to share here a series of Google Photos albums surveying the event being prepared by Ajay Krishna Prabhu: