Honorable Vaishnavas, God Brothers and Sisters, Devotees and Friends,
     We would like to invite you to the celebration of the Vyasapuja of Srila Bhakti Nirmal Acharya Maharaj on Saturday, October 1st. First we will celebrate at 11 am in Santa Cruz, then again at 5:30 pm in San Jose. Srila Bhakti Pavan Janardan Maharaj will have returned from India.
     Om Vishnupad Srila Bhakti Nirmal Acharya Maharaj is the Successor President Acharya of Sri Chaitanya Saraswat Math in Navadwip. He was publicly appointed by Srila Bhakti Sundar Govinda Dev-Goswami Maharaj in his declaration to the grand international assembly at Sri Chaitanya Saraswat Math on his own Sri Vyasapuja Day, December 4th, 2009. 
     Please take a minute to scroll down and the see mantrams honoring Srila Acharya Maharaj that Srila Govinda Maharaj composed himself. Visit Srila Acharya Maharaj's website SCSMathInternational.com to hear a short and sweet talk he gave on his Vyasapuja in 2013.
     We will be very honored to have your association for this celebration. We will sing the mantrams posted below, offer flowers, and honor a lovely mid-day feast.

Yours in the Lord's Service,
Sushila Devi Dasi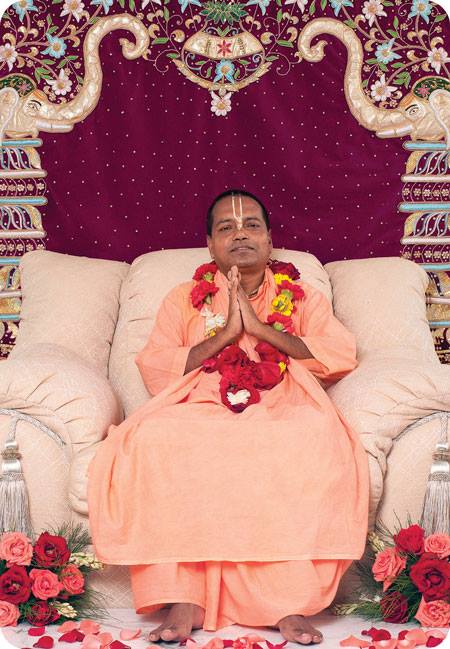 Appearance Day of
Srila Bhakti Nirmal Acharya Maharaj
Saturday, October 1st, 2016
San Jose ~ 5:30 pm
Santa Cruz ~ 11 am
     During our program, we will sing the following verse Srila Govinda Maharaj has composed in honor of Srila Acharya Maharaj within our Guru-Parampara song:
     We will offer flowers reciting the pranam mantram Srila Govinda Maharaj composed for Srila Acharya Maharaj below:

News from the Dham:
     Vrinda Devi Dasi is starting a series of posts on our local website SevaAshram.com with good news from Sri Navadwip Dham.
Upcoming Events:
     Please note all the big festivals coming up later this month that are highlighted in red in the calendar below.
---
Vaishnava calendar:
October 1, 2016 – Appearance of Srila Bhakti Nirmal Acharya Maharaj
October 11, 2016 – Fasting on Papankusha Ekadasi. Ramachandra Vijay Utsav, Appearance of Sri Madhva Acharya
October 12, 2016 – Paran from 10:06 to 11:00
October 13, 2016 – Disappearance of Srila Raghunath das Goswami, Raghunath Bhatta Goswami, Krishna Das Kaviraj
October 16, 2016 – Purnima. Disappearance of Srila Murari Gupta. Beginning of Damodar Vrata, Kartik Vrata
October 20, 2016 – Disappearance of Srila Narottam das Thakur
October 23, 2016 – Bahulastami. Manifestation of Sri Radha Kunda. Sannyas day of Srila Govinda Maharaj and Srila Janardan Maharaj. Anniversary of Pushpa Samadhi Mandir inauguration in Soquel.
October 24, 2016 – The Grand 122nd Appearance Day Celebration of Om Vishnupad Paramahamsa Parivrajakacharya-varya Ashtottara-shata-sri Srila Bhakti Raksak Sridhar Dev-Goswami Maharaj. Appearance of Srila Virachandra Prabhu.
October 31, 2016 – Sri Govardhan Puja
November 3, 2016 – Disappearance of Srila A.C. Bhaktivedanta Swami Prabhupad
Save
Save
Save
Save