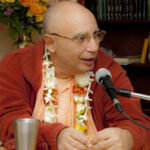 Sri Krishna Janmastami
Friday, August 23rd
6 pm in San Jose
6:30 pm – 1 am in Santa Cruz
Grand arotik ceremony at midnight in Santa Cruz
(complete fast until midnight and then no grains)

Sri Nandotsav and the
Aupicious Appearance of
Srila A.C. Bhaktivedanta Swami Prabhupad
August 24th
11 am in San Jose
10:30 am in Santa Cruz

janma karma ca me divyam evam yo vetti tattvatah
tyaktva deham punar janma naiti mam eti so 'rjuna
(Sri Bhagavad Gita 4.9)
Dear Godbrothers and Sisters, Devotees and friends,
I would like to cordially invite you and your kind family and friends to join with us in celebrating the Anniversary of the Auspicious advent of our most beloved Lord Sri Krishna which will be observed this year on Friday, August 23rd, 2019 (Sri Krishna Janmastami) for the pleasure of Their Lordships Sri Sri Guru Gauranga Gandharvika Giridhari and the assembled Devotees.
You are also most cordially invited to join the observance of Sri Nandotsav (Nanda Maharaj's Celebration) which will be celebrated on the following morning (Saturday, August 24th at 10:30) which is also the Auspicious Appearance day of His Divine Grace, Om Vishnupad Sri Srila A.C. Bhaktivedanta Swami Prabhupad.
Please join us in the functions of worship, readings, discourses, kirtan, distribution of Mahaprasad and other devotional activities which are always conducive to pure devotion.
We will be pleased to have your company and participation in this grand ceremony.
Yours in the service of The Divine Master and Supreme Lord Sri Krishna,
Swami B.P. Janardan and the servitors of Sri Chaitanya Saraswat Seva Ashram