Dear Friend of the Ashram,
     I am pleased to announce that Sripad Bhakti Ranjan Madhusudan Maharaj will be doing a preaching tour of Northern California and Oregon starting today, December 4th. Cinmoy Dev Prabhu and Braja Mohini Devi Dasi have made the arrangements. For more information please feel free to contact them:
Cinmoy Dev Das (831-239-0235)
Braja Mohini Devi Dasi (408-966-7768)
Yours in the Lord's service,
Sushila Devi Dasi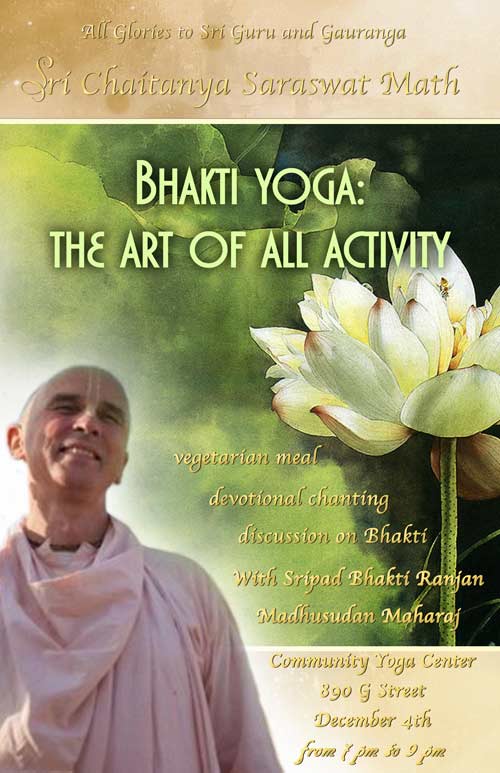 This is a rare opportunity to meet Sripad Bhakti Ranjan Madhusudhan Maharaj. He is highly regarded as an accomplished practitioner of Bhakti Yoga. He has demonstrated his integrity and dedication to service for the past three decades as the main secretary of the Sri Chaitanya Saraswat Math of West Bengal India where he served under His Divine Grace Srila Sridhar Maharaj and His Divine Grace Srila Govinda Maharaj, who are two of the most elevated Bhakti Yoga Vaishnava Saints of the 20th Century.
     Sripad Madhusudan Maharaj will briefly explain the path of devotion and there will be Holy Kirtans of the Gaudiya Vaishnava tradition and light refreshments ~ Prasadam.
Hare Krishna!
---
Tonight in Arcata, California:
Eugene, Oregon:
Ashland, Oregon:
Chico, California:
Chico Grange
2775 Nord Ave.
Wednesday, December 9, 6:30-8:30 pm
Davis, California:
Kaya Yoga
1505-D 5th St.
Friday, December 11, 7-9 pm
Penngrove, California:
Fairfax, California:
The house of Anukulchandra Prabhu and Jenna
Call for details.
Sunday, December 13, 5:30 pm