The following tracks are posted to help the practitioners in our Ashram learn the extra kirtans that are sung every morning and evening during the month of Kartik. They are not officially produced and released yet, but I am posting them here anyway because I know that the devotees who recorded them want to help others. Scroll down for an e-book of the kirtan guide.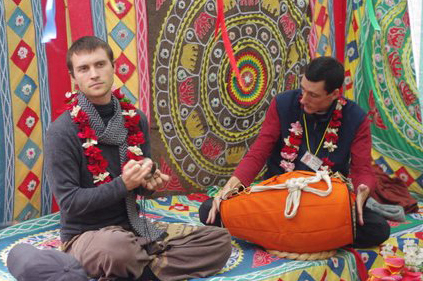 Morning
The following tracks were recorded by Manasa Krishna Prabhu and Sadhu Priya Prabhu in Russia.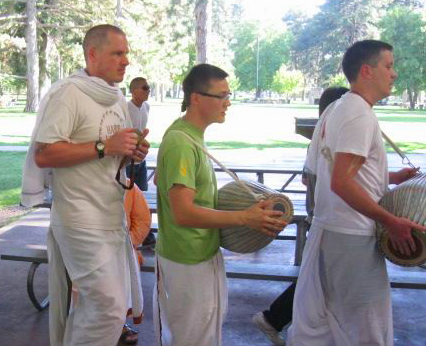 Evening (Sikshastakam songs)

The following kirtans written by Bhaktivinod Thakur correspond to Sri Chaitanya Mahaprabhu's eight principle teachings called Sri Sikshastakam. They were recorded at SCS Mission in Salt Lake City, Utah and feature Sudarshan, Bimal Krishna, and Nitai Prabhus along with others.
03 Sri Krishna Kirttane Jodi Manasa Tohara.mp3
08 Bandhu Gan Sunoho Bacana Mora.mp3
---
Below are e-books of the kirtan guide so that you can follow along with the words. I copied the following descriptions from GaudiyaDarshan.com's e-book directory.
Kirtan Guide
by Sri Chaitanya Saraswat Math
A comprehensive collection of Gaudiya–Vaishnav songs and prayers as sung at Sri Chaitanya Saraswat Math Nabadwip. Compiled, translated, and published by Sadhu Priya Prabhu of Australia.
Kirtan Guide (Pocket Edition)
By Sri Chaitanya Saraswat Math
A revised and abridged version of Sri Chaitanya Saraswat Math's Kirtan Guide. In this new edition the songs have been grouped into categories and laid out according to the manner in which they are sung. New songs have been added, an explanation and series of examples for the ornaments (akars) added to numerous songs has been provided, and a set of guidelines for following Sri Chaitanya Saraswat Math's style of kirtan has been included.