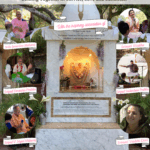 We are very happy to announce that the registration is now open for the Govinda Mela festival and retreat.
Govinda Mela 2022 will be held here at the Soquel Seva Ashram for 8 days starting Tuesday, July 19th through Tuesday, July 26th.
This schedule will allow two days (July 19th & 20th) for arriving and getting tents set up and two days (July 25th & 26th) for packing up and departure. The main programs will be held from Thursday through Sunday (July 21st to 24th).
The programs will include the morning mangal aratis and kirtans, bhajans and Sri Chaitanya Charitamrita class. Afternoon and evening programs will include the temple programs and special classes given by Srila Janardan Maharaj, Sripad Devashis Prabhu, Vishakha Devi, Sripad Sudarshan Prabhu and other devotees from our Sri Chaitanya Saraswat Math family. Harinam sankirtan will be organized and of course the famous Santa Cruz beach bonfire! And we will again honor Sri Giriraj with His abhisheka (bathing ceremony) at the Sri Girirajraj mandir with chanting and dancing parikrama along the Via Govinda path to the top of the hill. Special programs will also be organized for the children.

We ask that everyone who is planning on coming to please register with us to help us better plan for the events. Also, we humbly request that each participant donate $25 to help cover the costs of the event. But please do not hesitate to register and come even if you cannot afford to give a donation!
Donations can be made on our website at http://SevaAshram.net/donate/ Please enter Govinda Mela in the comments field and the names of the devotees who will be attending. (This site works much better from a computer rather than a phone.)
Click here to register to Govinda Mela 2022.
If you have any difficulty accessing the registration form, please, contact us by sending an email at GovindaMela2022@gmail.com or contacting our team via text (WhatsApp) +1 (236) 818-3740. We will be happy to assist you to make this process fast and easy!
 We will publish more information as it becomes available. And we value your comments and suggestions.