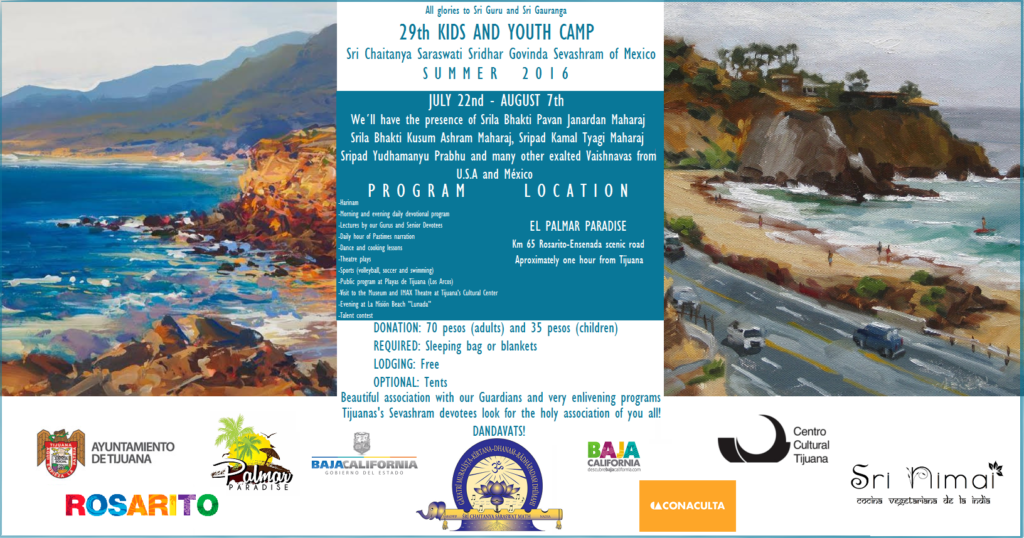 Dear devotees,
Please, accept our humble obeisances to your dedicated feet.
     On behalf of Srila Bhakti Kusum Ashram Maharaj and Mexican devotees, we have the honor to invite you to the Kids and Youth Camp to be held near Tijuana, in Puerto Nuevo, this Summer, starting from July 22nd until August 7th.
     By the Grace of our Gurudevas, we can offer a free accommodation and only it's necessary that you bring a sleeping bag with you. Also we have a little list of hotels more or less nearby in case you want to have a reserved place. Please, call us at the Tijuana Sevashram phone number if you need more information (664) 608-9154.
     We'll have a daily program of classes, kirtan and prasadam, under the shelter of Srila Janardan Maharaj, Srila Ashram Maharaj and Srila Tyagi Maharaj, and many activities inside the Camp and also outside.
Hoping to have your wonderful association.
Dandavats.
Jai Balai & the Tijuana Sevashram Community of devotees and aspirants