Bring your family and friends!
Third Annual Shraddaanjali Dance Festival
Kathak Nritya Bithika

Presented by Kathak Kala Vihar
School of Classical Indian Dance
PLEASE JOIN US!
Saturday, March 25, 2017 at 3 pm

The Eagle Theater
of Los Altos High School
201 Almond Ave, Los Altos, CA 94022
Please take a few seconds to watch this video introduction from 2013:
Purchase tickets now for this beautiful festival of classical Indian dancing in the Kathak tradition presented by Sangita Nandy's Kathak Kala Vihar Dance School. The whole family, including your children, will enjoy this wonderful dance concert. Don't miss this exciting opportunity! This is a benefit concert and all proceeds will be donated to the Vaishnava Seva Society.
Here is what others have said about Sangita Nandy's Kathak Kala Vihar Dance concerts:
Legendary Kathak maestro Nrityashiromani Guru Bandana Sen – "It feels great to see our rich cultural heritage being passed on with such enthusiasm to the younger generation, even though they are not in India."
J. Sharma – "We had the most wonderful evening at Sangita Nandy's Kathak Kala Dance concert. And our daughter loved it so much she wanted to start taking lessons!"


Shraddhaanjali means an affectionate offering to our teachers. For the satisfaction of Sri Guru, Sri Gauranga, and all the Vaishnavas, Sri Chaitanya Saraswat Seva Ashram hopes to serve the Bay Area's South Asian communities by giving everyone, especially families, a chance to stay connected with India's rich cultural heritage. Children, youth and adults from every background will certainly enjoy this colorful cultural festival and feel their lives very much enriched by the beauty, charm and grace of classical Kathak dance.
The cost of your ticket supports Vaishnava Seva Society (VSS), a local non-profit organization that has served Santa Cruz and Santa Clara counties for 20 years. These 20 years, the branch of VSS called Community Relief Services has held an annual Christmas event benefiting low-income families. The exciting program, held at the Santa Cruz Beach Flats Community Center, receives local news coverage every year and is widely appreciated.
Rooted in the traditional Vedic system of ancient India, Vaishnava Seva Society focuses on revealing bhakti yoga, a practice of devotional sound meditation that is beneficial for all and is already popular among persons of South Asian descent.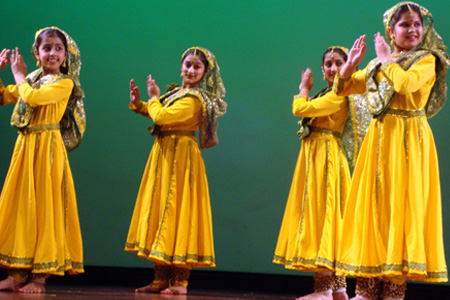 Bhakti yoga promotes a clean, healthy and simple lifestyle; promotes mental development; and increases energy–especially among children and youth of all backgrounds. Humility, tolerance and respect for others are central practices of bhakti yoga, as they help one to live in harmony with others and with the environment. Whereas several popular forms of yoga involve complicated postures and breathing techniques, like hatha yoga, patanjali yoga and kundalini yoga, bhakti yoga is a transformation of the heart and consciousness.
We invite you, your friends, and family to experience the harmonious Vedic lifestyle among bhakti yoga practitioners at the Sri Chaitanya Saraswat Seva Ashrams in downtown San Jose and in the peaceful Santa Cruz mountains. Join us Saturday evenings at 5:30 in San Jose or Sundays at Noon in Santa Cruz for a public program of devotional sound meditation, or kirtan, and a vegetarian feast of bhagavat prasad. All our programs are free of charge. For more information please visit our homepage: Seva Ashram News
| | |
| --- | --- |
| For more information, please subscribe to our Ashram's Newsletter: | |