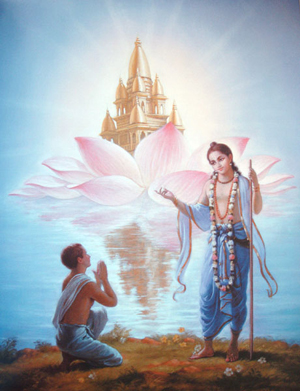 Sri Nityananda Prabhu's Divine Appearance
Friday, February 3, 2023 at 6 pm
Please join us at the Soquel Seva Ashram this Friday evening at 6 pm for the Appearance of Sri Nityananda Prabhu. Join in the kirtan, hear the glories of Sri Nityananda Prabhu, and partake of a sumptuous vegetarian feast. There will be planned activities for children.
sri-krsna-premanama parama-sukhamayah ko 'pyachintyah padartho
yad gandhat sajjanaugha nigama-bahumatam moksam apy aksipanti
kaivalyaisvaryya-seva-pradagana iti yasyangatah premadatuh
sri-nityananda-chandram bhaja bhaja satatam gaura-krsna-pradam tam
My dear heart, please eternally worship that gracious giver of Gaura-Krishna—Sri Nityanandachandra. It is He who bestows upon us pure unalloyed divine love for the Supreme Lord Sri Krishna (Sri-Krishna-prema) composed of the most supreme and intense ecstasy. The love that He distributes carries an inconceivable import—it is of such ecstasy that the sadhus who may experience only a hint of its fragrance, hatefully cast away all thought of liberation in the 'One' as propounded in the Vedas. Furthermore, His Avataras, who bestow the divine love of service in the transcendental majesty of Vaikuntha, are but expansions of His expansion.

Sriman Nityananda Dvadasakam
By Srila Bhakti Raksak Sridhar Dev-Goswami Maharaj