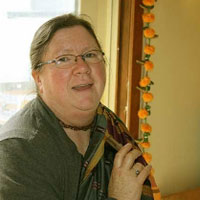 Please join us for a new weekly class led by Sarvabhavana Prabhu on the recent publication of Srila Govinda Maharaj's talks entitled Revealed Truth. The class will begin this Thursday August 15th at 7:00 pm in Soquel.
Sarvabhavana Prabhu would like everyone to read the chapter ahead of time. This week we will be reading from and discussing chapter 1. Prasadam will be served after class at 8:30 pm.
Sripad Tyagi Maharaj, who compiled the book, recently told me that much of the compilation was done here in Soquel and a large part of the content was mined from discourses that took place here also. It is such an incredible book and we really hope that you will all join us in studying this amazing scripture.
"This book has been structured according to one of Srila Gurudev's favorite models of presentation, the Dasa-mula-tattva, Srila Bhakti Vinod Thakur's consolidation of Sri Chaitanya Mahaprabhu's siddhanta into ten fundamental principles."
"Join the devotees beneath the tree of divine revelation and nourish your soul with its nectar."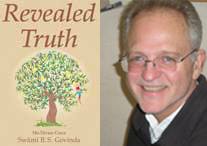 Thursday Evenings
in our Santa Cruz Center
7-8:30 pm
2900 N. Rodeo Gulch Rd.
Soquel, CA 95073
*Hard copies of Revealed Truth are available at the class and from Sushila Devi Dasi for a requested donation of $20. Please email her: sushila@sevaashram.com to reserve one. Copies are limited.
*Click here to view or download a pdf copy of Revealed Truth. Srila Janardan Maharaj reminded us at the Sunday Feast that Revealed Truth is available for iPads, laptops, and Kindles. Please inquire from Sushila Devi Dasi if you need some help reading it on your gadget.