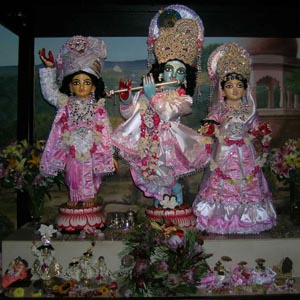 All glories to Sri Sri Guru Gauranga Gandharvika Giridhari!
Join us Sundays 12-2:30
Bring your family and friends. We love to meet new people.
10 minutes from Santa Cruz
45 minutes from San Jose
90 minutes from Oakland and San Francisco
If you would like to bring an offering for the deities, we recommend flowers and fruits. If you are interested in being engaged in seva, just call ahead or email us. The first step is to come here and get to know our community. Service donations are always appreciated. Our modest book store offers all the publications of Sri Chaitanya Saraswat Math as well as kirttan CDs, recorded lecture CDs, DVDs, photographs, tilak, and more.
Call us: (831) 462-4712
Email us: Info@SevaAshram.org
Write to us: Vaishnava Seva Society P.O. Box 8040 Santa Cruz, CA 95061
Visit in person: 2900 N. Rodeo Gulch Rd. Soquel, CA 95073